Although he never achieved the success or the recognition he worked so hard for, Henry Rayner's single-minded devotion to the drypoint technique created what is almost certainly the largest body of drypoint work of any mid-20th century artist.

There are more than 500 drypoint plates, most produced in the two decades after 1926. Many were of London scenes, especially in and around Chelsea, but his work also includes circus, music hall and ballet scenes, prints with social, political, religious and surrealist themes, animal subjects and portraits. He did numerous drypoints of his mentor and friend Walter Sickert.

Most of Rayner's original plates have survived, revealing that, lacking the money to buy copper plates, he was in the habit of using more or less any metal he could lay his hands on. Some of his plates had had a previous existence as oil containers, sweet tins and the like. Instead of special artists engraving tools he used second-hand dentists' drill bits, which he found more suited to the task.

He had been advised against drypoint by Sickert, mainly because of the limited number of prints that could be taken from an etched plate before the quality deteriorated. Rayner typically took 15 or fewer impressions from each plate. Sometimes if a work had sold well, he would make a new plate of the scene. This happened in the case of his Old Lombard Cafe drypoint, of which there are four slightly different versions.

When Rayner took the decision to be a drypoint etcher, in 1926, the 'etching revival' was in full swing. Sales of etchings were still booming, and prices were high. All that ended with the Wall Street crash, and the market for black and white etchings virtually disappeared. Undeterred, he stuck to his chosen medium right through what he called the 'hungry years' of the 1930s, and through the 1939 war. There were times when he walked the streets of London, selling his prints door to door.

It has taken nearly 70 years for Henry Rayner's drypoint work to begin attracting serious interest among collectors. In October 2005 four drypoint prints of Sickert and a pen and ink portrait of D H Lawrence, all from the collection of Roy Davids, sold for a total of more than £3,300 (including buyer's premium) at Bonhams, London.

In February 2008 four Henry Rayner drypoints were included in an important exhibition staged by the National Gallery of Australia in Canberra: 'Australian Surrealism, the Agapitos/Wilson collection'.

Prints by Rayner occasionally come up for sale at dealers, see for example the Barham Money website.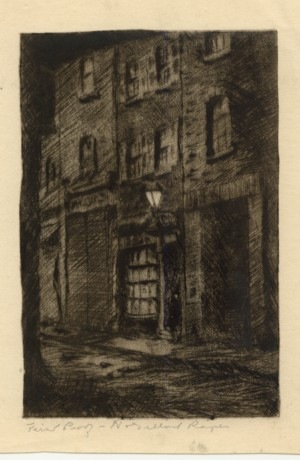 An early etching from around 1926 while he was a student at the RA Schools. The 'Impressionistic' style of drypoint etching that would become his trademark was yet to emerge.
The location of this night-time scene is not identified, but may be in the Fitzroy Street area where Sickert was living at the time.
The print is signed 'H. Gillard Rayner' (Gillard was his step-father's family name). Within a year he had adopted the name 'Henry Rayner' for professional purposes, and that's how all his prints were signed from then on.