Hewitt Henry Rayner was born in the Melbourne area of Australia in September 1902. He was a first-generation Australian - his father Henry Redstone Rayner had arrived in Australia in 1886 at the age of 14 with his parents and siblings. They came from Shanklin, on the Isle of Wight.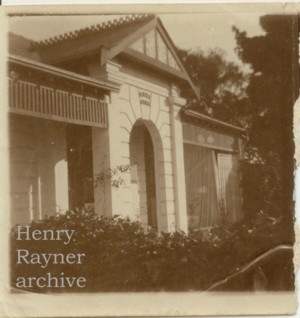 Hewitt was an only child, and grew up in Brighton, an up-and-coming small coastal town to the South of Melbourne, where his father had started a small house-building business.

The photo shows the family home in New Street, Brighton, in 1914. The property no longer exists, having been controversially demolished in the 1980s.

In his late teens he spent three years in New Zealand, with his maternal grandparents.

Late in 1923, using money he had saved from his jobs in Australia and New Zealand, he sailed for London to pursue his goals of becoming an artist. He was 21 years old.

In 1925 he won a place at the Royal Academy Schools where he met Walter Rickard Sickert, then a visiting lecturer. Sickert became his friend and mentor, and from then until the early 1930s they met regularly.

London became Rayner's adopted home. He was deeply attracted to Chelsea. He liked nothing more than sitting in the window of the Old Lombard Cafe (in a long-gone building near Chelsea Old Church) and watching the setting sun light up the buildings on the South side of the river.

Rayner married in 1926, and the couple had two daughters.

He chose the technique of drypoint etching as his principal medium, and between 1925 and 1945 produced over 500 original plates. This is almost certainly the largest body of original drypoint etchings produceed by any 20th century artist.

As the years progressed, he struggled against, illness, the economic depression of the 1930s and serious wartime injuries to continue his art. There were occasional bright spots. In 1939 Queen Mary, the mother of King George VI, acquired a Rayner drypoint of her son.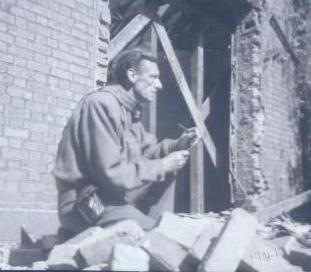 He was turned down for military service in the 1939 war on health grounds, so he stayed in London drawing and etching blitz scenes while his wife and daughters were evacuated to safer places.

Despite occasional newspaper stories about him, he never achieved the recognition and success he fought for. Today's art reference books rarely give him a mention.

The high point in his career was in 1945 when the prestigious Brook Street Art Gallery gave him a one-man exhibition. It was opened by Mr W J Jordan, New Zealand's High Commissioner in London.

He died in 1957 in Ramsgate, and is buried in Highgate Cemetery.